MP's Vandal and Ouellette impressed by Voyageur Internet initiatives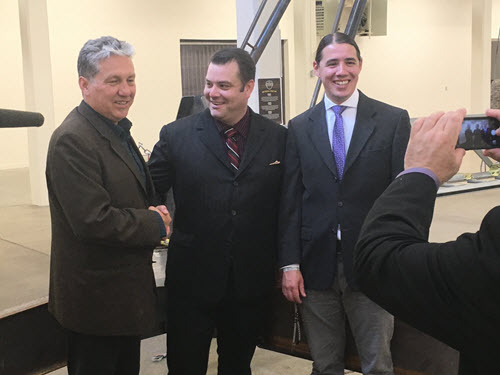 Manitoba Liberal MP's Dan Vandal (left)
Voyageur Internet CEO Jeff Klause (center)
Robert-Falcon Ouellette (right)
The growing success of Voyageur Internet has caught the attention of two Liberal Members of Parliament, who went straight to the source to learn more about the benefits of including wireless internet as part of a national strategy, to ensure all Canadians have reliable connectivity.
In late June, Voyageur Internet President and CEO Jeff Klause hosted Dan Vandal, MP for St. Boniface-St. Vital and Robert-Falcon Ouellette, MP for Winnipeg Centre, for a tour of the facility and provided an overview of Connecting Manitoba.
The licencing of Voyageur's unique tower technology to Big Sky Towers Systems Inc., very much interested the MP's. The rapid deployment of wireless towers that do not require ground penetration, and can be completely assembled and on a network in 4 days, impressed them as a cost-effective and safe method to overcome challenges of distance, terrain, and soil conditions.
Both MP's eagerly reviewed maps and other material describing the capabilities of the wireless technology and potential in the marketplace, as well as in creating opportunities in health, education and commerce in underserved communities. Mr. Ouellette, a Canadian Armed Forces veteran, related his personal experiences laying fibre cable in Afghanistan and was pleased this advanced technology was being developed and manufactured in his riding. He also noted the potential for training skilled workers to construct and maintain the towers in a sector where demand will continue to expand.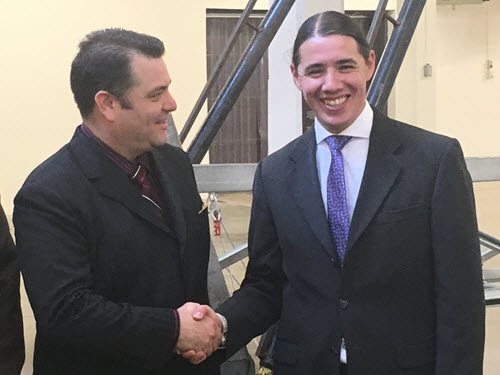 Voyageur Internet CEO Jeff Klause with the Member of Parliament for the riding, Robert-Falcon Ouellette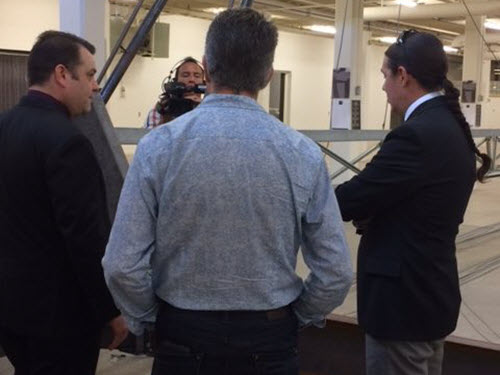 CEO Jeff Klause (left) demonstrates Voyageur Internet's wireless tower for Winnipeg Centre MP Robert-Falcon Ouellette (right)